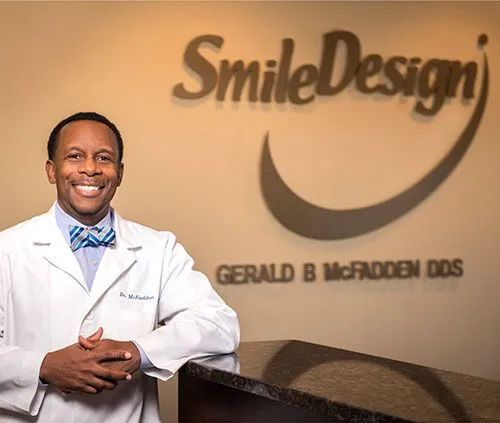 Dr. Gerald B. McFadden is a native of Baltimore, Maryland. He earned his Bachelor of Science degree from the University of Maryland in Baltimore, Maryland. He continued his studies at the University of Maryland Dental School in Baltimore where he received his Doctor of Dental Surgery degree. Dr. McFadden then completed an Advanced Education in General Dentistry (AEGD) residency program in the United States Army where he served honorably for 4 years. He is currently serving in the Georgia Army National Guard and is attached to the 78th Aviation Troop Command where he is providing dental care to the brave men and women in uniform.
Dr. Gerald McFadden earned his Fellowship in The Academy of General Dentistry (FAGD) at the Academy of General Dentistry (AGD)'s 52nd Annual Meeting and Exhibits in Anaheim, California, July 2004.
The Fellowship is one of the few post-graduate designations available to general dentists. It requires the dentist to complete over 500 hours of continuing education in various disciplines and to pass a rigorous examination.
Dr. Gerald McFadden is a member of the American Academy of Implant Dentistry (AAID). The organization represents excellence in education, scientific development,and patient care. He has completed step one of becoming an associate fellow which consists of meeting education and experimental requirements and pass an examination.
Dr. McFadden is also a member of the International Congress of Oral Implantologists (ICOI). The ICOI is devoted to providing implant education to the entire dental community to better serve its patients. It is not only the world's largest dental implant organization, but it is also the world's largest provider of continuing dental implant education. In May 2013, Dr. McFadden was awarded the Fellowship from the International Congress of Oral Implantology (ICOI). The requirements for such a prestigious award is the completion of numerous implant cases. Also, completion of at least 75 hours or more of implant education, where he has successfully completed 300 hours.
In 2013, The Consumer's Research Council of America certified Gerald B. McFadden, DDS as America's Top Dentist 2013. The criteria used in the evaluations include years of formal education and continuing education, number of years practicing in the dental profession, board certifications and affiliations with professional dental associations.
In his personal life, he is married to Laureen, the Practice Manager, and college sweetheart. They have a daughter, Maya and a son, Gerald Jr. ("Ellis") who are their joy. Dr. McFadden enjoys running, racquetball, and golf. However, his greatest joy is simply spending time with his family and his friends.